The Buckeye Institute Wins Atlas Network's Inaugural North America Liberty Award
Nov 15, 2018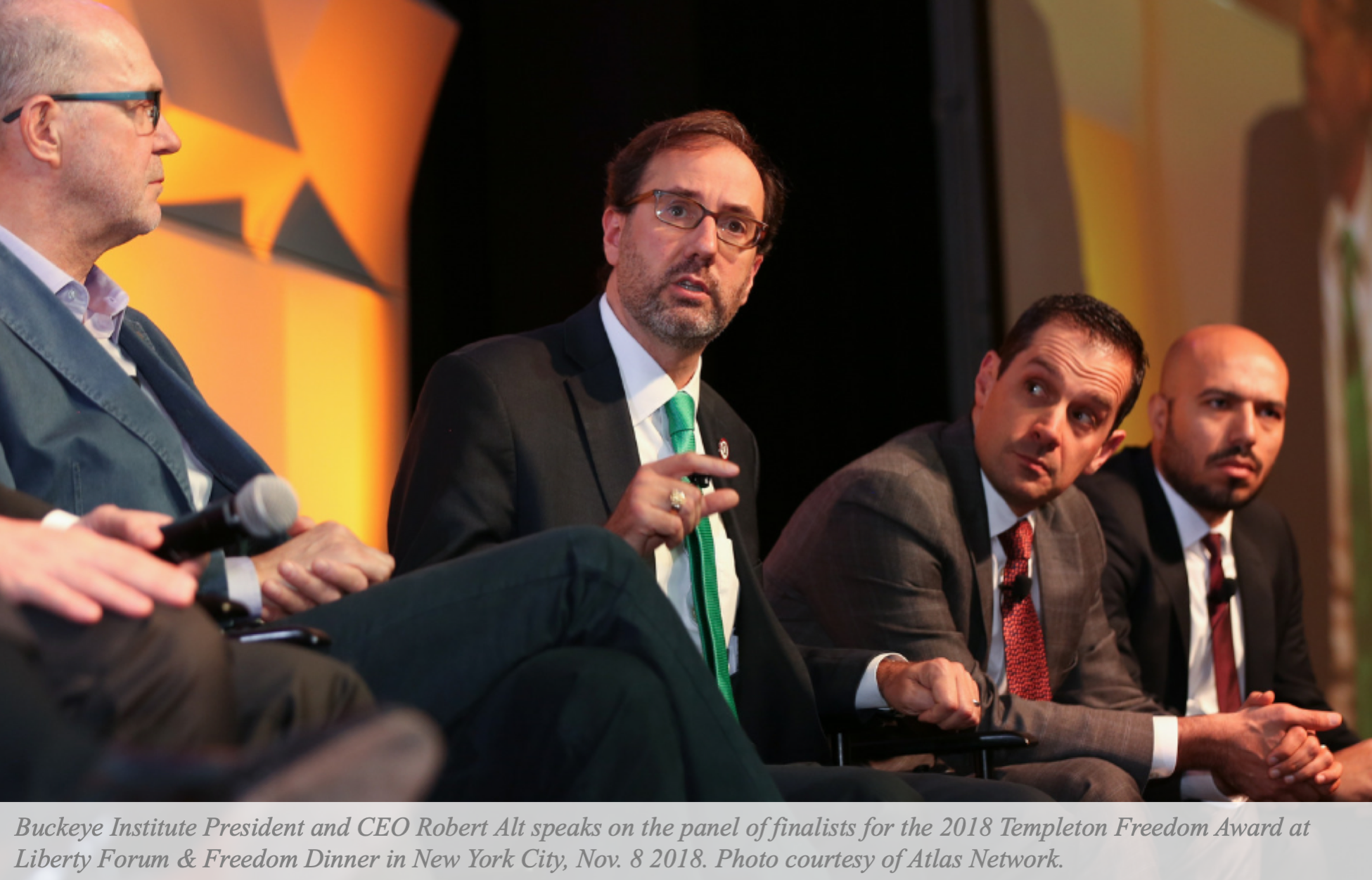 Columbus, OH – The Buckeye Institute was named the winner of Atlas Network's inaugural North America Liberty Award on Thursday. The Buckeye Institute was singled out "for its work advancing meaningful criminal justice reform in Ohio."
"This award is quite an honor and a tremendous surprise. We were humbled and grateful to share the stage last week in New York City with the other impressive and deserving finalists from around the world for the Templeton Freedom Award, and this additional recognition for our work as the inaugural recipients of the new annual North America Liberty Award is icing on the cake," said Robert Alt, president and chief executive officer of The Buckeye Institute.
"We are extraordinarily proud of the unprecedented accomplishments we have achieved in reforming Ohio's criminal justice system law-by-law over the past five years. To be recognized for this success helps us shine a light even further into the dark crevices of injustice. Buckeye's work is proof that powerful left-right coalitions led by state think tanks with true legal expertise combined with an unrelenting focus on sound public policy including greater protections for the rights of the accused, cost-effectively rehabilitating offenders, and reducing the astronomical cost of the criminal justice system can make an astounding difference," said Robert Alt, president and chief executive officer of The Buckeye Institute.
"The Buckeye Institute's business model has proven to be the best example for how to do criminal justice reform in a world that desperately needs us to solve these seemingly intractable problems. Buckeye is committed to setting the gold standard for the nation on this issue, and we strongly encourage everyone to join us in this worthy cause to advance liberty and change lives forever," said Robert Alt, president and chief executive officer of The Buckeye Institute.
In announcing Buckeye as the winner of the inaugural award, Atlas said, "Buckeye's efforts have blazed a trail to reverse Ohio's growth trend in incarceration by shrinking the state's prison population to below 50,000, dramatically slashing the recidivism rate from 40 to 27 percent, reducing prison admissions by nearly 10 percent, expanding opportunities for thousands of people leaving prison, and redirecting $40 million to Ohio communities for the treatment of addiction and mental health issues. As a result, Ohio's prison admissions rate has now hit a 27-year low."
The Regional Liberty Awards annually recognize think tanks that have made important contributions to improving the landscape for enterprise and entrepreneurship in their regions. Atlas Network selects the winners from each of the following world regions respectively: Asia, Africa, Europe, Latin America, North America, and Middle East & North Africa.
2018 is the first year Atlas Network has issued an award to an organization from North America, and The Buckeye Institute is particularly proud to have earned that very first North American Liberty Award.
# # #