Why Ohio needs occupational licensing reform
Sep 29, 2016
Ohio's occupational licensing laws have been stifling job and business growth in the state. This week, policymakers here moved closer to making Ohio's employment environment as welcoming as other states'.
On September 27, The Buckeye Institute's Senior Policy Analyst Greg Lawson testified on a senate proposal, which seeks to eliminate unnecessary licensing restrictions through timely panel reviews of licensing boards. In the past year, significant steps have been taken to reduce Ohio's restrictions on occupational licensing. But there is still work to be done.
What is occupational licensing?
Occupational licensing is a government requirement that individuals obtain a license in order to practice their profession. The regulation is often defended as a means to ensure safety among practitioners, though it increasingly has grown in scope. Such increases actually push people away from heavily licensed occupations.
Indeed, occupational licensing forces Ohio workers to spend thousands of hours obtaining education and/or experience just to qualify for a license, costing millions of dollars each year. These costs can deter workers from doing business and make it hard for entrepreneurs to start a business in states where the licensing requirements are particularly extensive.
As The Buckeye Institute explained in Forbidden to Succeed, Ohio's restrictions put it at a strategic disadvantage in several important ways. When comparing Ohio's restrictions to those of surrounding states, it becomes clear why reforms are needed for Ohio.
Ohio's competitive disadvantage with occupational licensing
Those living in Ohio don't have to go far to find a more conducive environment for job and business growth. In four of Ohio's five bordering states – Indiana, Michigan, Pennsylvania, and West Virginia – workers in most occupations can spend less time and money earning a license than in Ohio.
What have these states done to reform occupational licensing that Ohio hasn't? On average, Ohioans spend anywhere between 85 and 228 more days trying to obtain a license than these states. So while residents of those other states can get to work, Ohioans in many cases are still trying to earn their licenses for several more months.
In fact, obtaining a license in Pennsylvania is on average the fastest process in the nation (yet even there it takes an average of nearly four months). In Michigan there is the Office of Regulatory Reinvention, which works to identify unnecessary regulations – somewhat akin to what Ohio is considering. That office produced a report for Gov. Rick Snyder outlining recommendations for reform on occupational licensing.
Also next door, Indiana creates a conducive environment for those wishing to work in the state by requiring very few occupations to be licensed. It is the second least extensively licensed state in the nation. And in West Virginia, a law was passed earlier this year that cut down on redundant and out-of-date restrictions on nurses, cutting down on any unnecessary training and thus getting nurses into the workforce more quickly.
These sorts of initiatives show the beauty of federalism – states are driving competition, cutting red tape, and helping expedite the process of putting people into the workforce in ways that are appropriate for their states' workforces.
Ohio has started to similarly roll back such restrictions, but no doubt has room to do much more.
Past victories, current challenges for workers pursuing licenses
Earlier this year, the Ohio legislature passed and Gov. Kasich signed Senate Bill 213, ending Ohio's licensing requirement on salon managers. This requirement was found nowhere else in the country.
That victory for Ohio's cosmetologists could prove to be a watershed moment for other licensed professionals, as there are areas in which Ohio still needs significant occupational licensing reform.
For instance, those in Ohio wishing to be auctioneers must train for at least a year to do so, a restriction found only in a handful of other states. Also in Ohio's Revised Code are requirements that school bus drivers have a license for at least two years before driving. Licenses are also required for social and human service assistants as well as dietetic technicians – both of which are not required by a majority of other states.
Discouragingly, a number of recent proposals have actually sought to add more restrictions. As Buckeye outlined in Forbidden to Succeed, a previous senate measure would have increased licensing fees to auto repair shops, which in turn could increase the price of business not only for the shop owners, but also its customers.
Ohio needs fewer regulations, not more, to get people back to work and to put employers in a position where they can hire and promote their employees. A current senate proposal is a step in that direction.
Senate sunset
A proposal from the Ohio Senate will allow legislative panels to review occupational licensing boards to ensure that any regulations put into place are reasonable and appropriate. As Lawson stated in his testimony, this is an important tool for the Ohio legislature because it allows "for uprooting bureaucratic thistles that deprive Ohioans of the potential fruits of their labor…(and) weeding out some of Ohio's most unnecessary and burdensome licenses."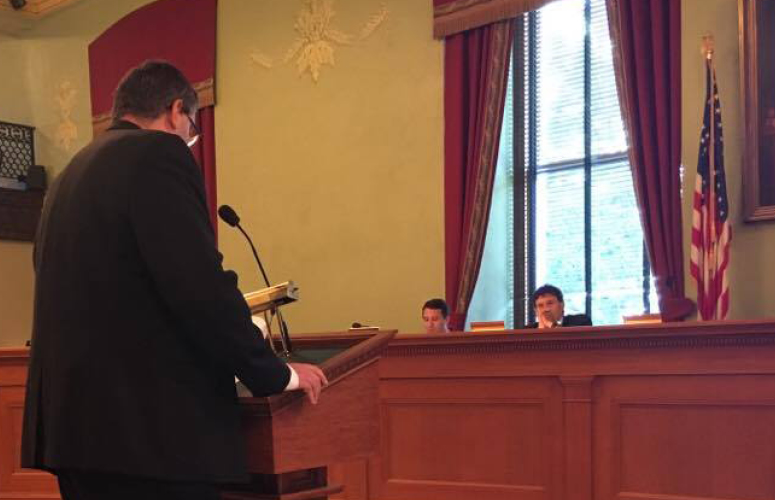 Greg R. Lawson, left, testified before an Ohio Senate committee, September 27, on reforming Ohio's occupational licensing regulations.

Lawson noted how occupational licensing laws for high-risk professions make sense, but stringent and costly requirements for professions that require less training are unnecessary. The senate measure would force these sorts of restrictions to be evaluated and reconsidered.
At the same time, there is room for improvement in the senate's proposal. Sunset provisioning – in which the state must reauthorize state licensing boards periodically or the board ceases to exist – would ensure that licensing entities do not violate federal anti-trust law. Last year, the U.S. Supreme Court ruled that a state must actively supervise licensing boards whose members practice the occupation regulated by the board. The addition of sunset provisioning would thus satisfy this requirement and prevent future legal challenges to Ohio's law.
The future of occupational licensing in Ohio
The Ohio Senate's proposed reform is just the tip of the iceberg in cooling down Ohio's overheated occupational licensing environment. Lifting such restrictions in other professions will give Ohio a strategic advantage among its neighbors, instead of its current disadvantage. In addition, making licensing boards defend their impositions on certain professions would bring other possible hurdles under greater scrutiny.
Removing barriers, as well as learning from what has worked in other states, will help accomplish this task. If you have experience dealing with over-licensed professions – or know someone who does – click here to tell us your story.