Expanding Medicaid: The Wrong Decision for Ohio
Jan 31, 2013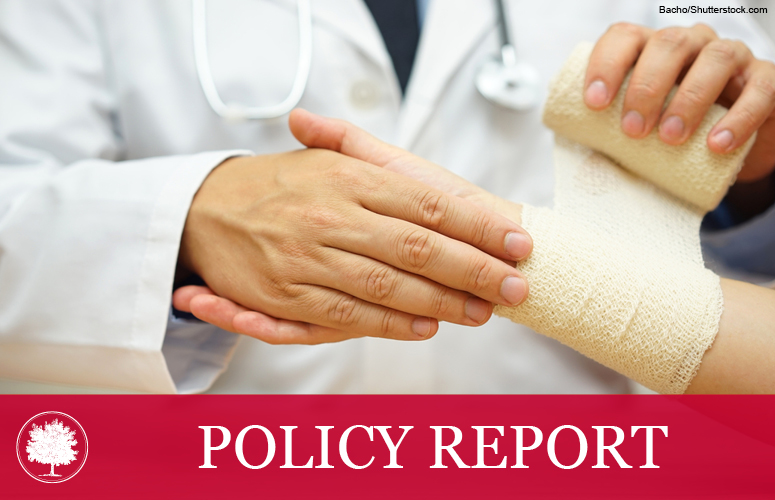 By Greg R. Lawson
Summary
Ohio must soon decide whether to participate in that portion of the Affordable Care Act (ACA), popularly known as ObamaCare, which would greatly expand the Medicaid program. There are at least six reasons why transforming Medicaid from a safety net into a broad-based welfare program that covers able-bodied adults with incomes up to 138% of the federal poverty level is the wrong policy decision for Ohio. Policymakers should not trade dubious short-term gains for long-term losses.
1. Future Federal Funding Reductions Would Shift Burden to Ohio
Under the ACA, the Federal Government is offering increased federal funding for states that participate in Medicaid expansion. ese funding levels are unsustainable, and may be changed at any time. The Obama administration already recommended an adjustment that would cost Ohio an additional $2 billion. Even slight changes to federal spending rates will have devastating long-term effects for Ohio.
2. Increased Administrative Costs of Expansion
The enhanced federal matching funds provided under the ACA explicitly do NOT cover administration of the expanded program. The Obama Administration estimates that the states will need to pay an additional $12 billion in administrative costs for expansion.
3. Future Sales Tax Revenue Is Subject to Changing Regulatory Landscape
Proponents of expanding Medicaid have argued that Ohio could achieve a revenue windfall based upon a special sales tax Ohio levies on Medicaid Managed Care Organization plans. The federal government is already considering phasing out the loophole that allows these taxes. Relying on this revenue to pay for an expensive expansion therefore is reckless.
4. Flaws in Report Advocating Expansion
A recent report co-authored by the Urban Institute touting the short-term financial benefits of Medicaid expansion suffered from multiple flaws that make its windfall revenue projections unreliable, particularly for long-term planning purposes.
5. Relegates More Ohioans To a Failing Government Program
Numerous studies demonstrate that health outcomes for those in Medicaid are often worse than if the individual had no insurance at all. Many Ohioans who would be relegated to the failing Medicaid program could otherwise obtain subsidies for insurance through an exchange.
6. Expands Government Programs and Government Spending
States have a choice as to whether to expand Medicaid to ACA levels. The expansion fundamentally transforms Medicaid into a much larger government welfare program. This is contrary to conservative, limited government, and free-market principles.
Click here to download the full report: Expanding Medicaid: The Wrong Decision for Ohio