The Buckeye Institute: Ohio's Fiscal Prudence Example for Other States During Economic Downturns
Dec 15, 2020
Columbus, OH – On Tuesday, The Buckeye Institute released a new policy brief, A Case Study from the Heartland: Ohio's Tax Collections Reveal Danger from Big Government Bailout, which demonstrates that higher than expected tax collections are good news for Ohio's next budget and that a future federal COVID-19 relief package should avoid creating disincentives for fiscal prudence or punishing states that wisely prepared their budgets for economic downturns.
"Ohio policymakers have set an example for other states to follow—prudently cutting the budget when the pandemic threatened fiscal solvency and preparing for hard times by building up the rainy day fund," said Logan Kolas, an economic policy analyst with the Economic Research Center at The Buckeye Institute and the author of A Case Study from the Heartland. "As lawmakers in Columbus look to Ohio's next budget they should continue to cut unnecessary spending, and, most importantly, avoid tax increases that would harm Ohio's economic recovery."
In A Case Study from the Heartland, Kolas looks at how Ohio's tax collections have performed since the start of the pandemic compared to 2019. Over the past nine months, Ohio's tax collections have dropped less than 2.3 percent compared to 2019, which—with an untapped rainy day fund—places the state in sound fiscal shape heading into budget discussions early next year, if Ohio can keep the pandemic at bay and avoid further economic disruptions.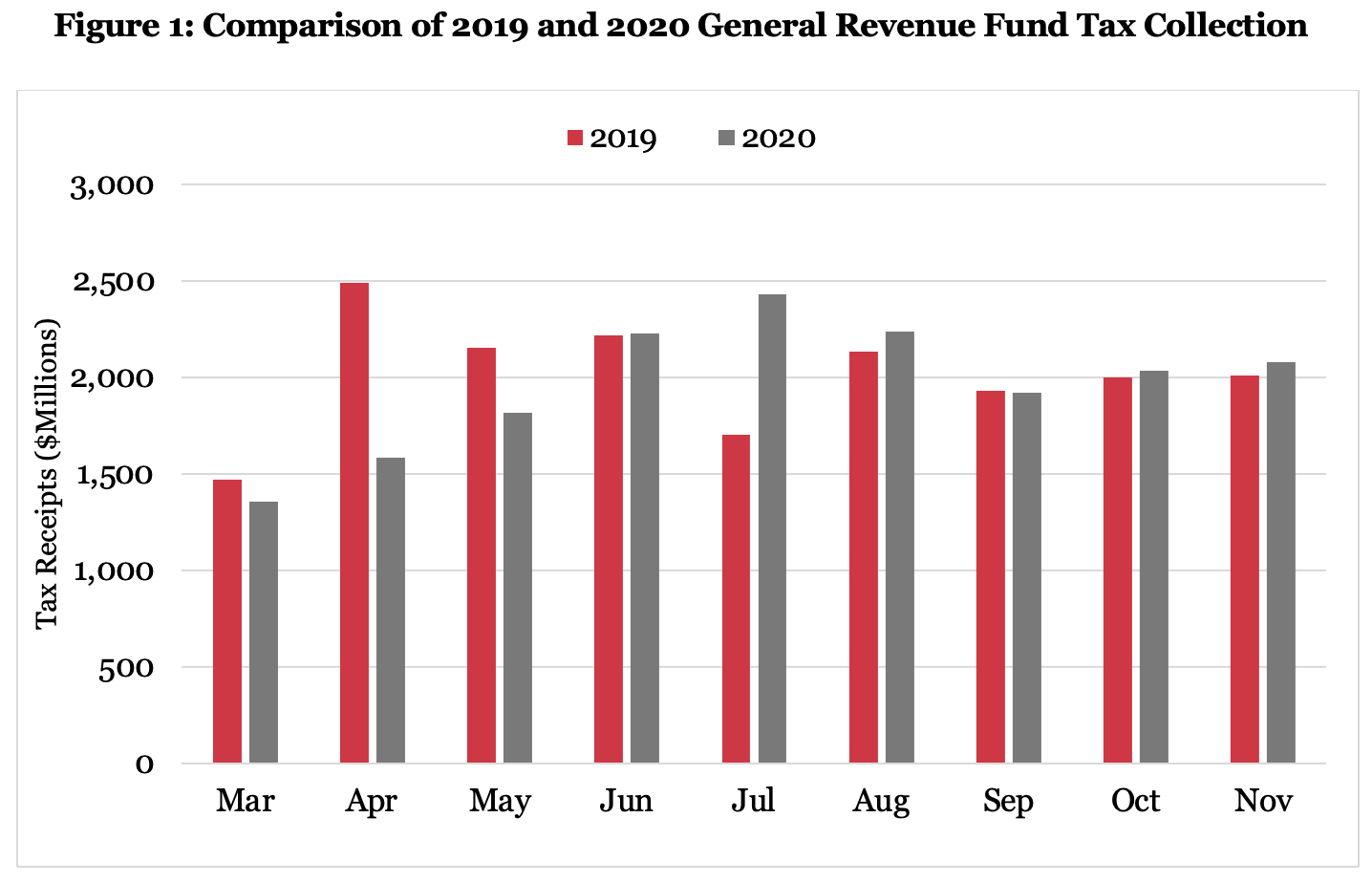 Citing scholarly analysis and data from the Bureau of Economic Analysis, Kolas also looked at the performance of other states and noted that state and local tax collections are on the rise across the country, and that, according to the National Association of State Budget Officers, states have more money available in rainy day funds to weather the COVID-19 fiscal crisis.
While targeted federal aid to states may remain necessary as COVID-19 cases surge, Kolas writes that "With tax revenues performing significantly better than expected in Ohio and across the nation, many federal proposals to bailout state and local governments should be revised downward." Kolas goes on to urge lawmakers in Washington to "reconsider how much aid state and local governments really need to weather this fiscal storm, and make sure that any federal aid remains appropriately tailored to meeting those needs."
# # #