The Buckeye Institute Releases Famous Piglet Book, Finds More Than $600 Million in Savings for Ohio Taxpayers
Mar 16, 2021
Columbus, OH – On Tuesday, The Buckeye Institute released its 2021 Piglet Book, which identified more than $600 million in savings for Ohio taxpayers and looked at spending principles and priorities as Ohio recovers from the COVID-19 pandemic. Buckeye's acclaimed Piglet Book is an analysis of Ohio's proposed biennial budget and offers savings for lawmakers to consider as they debate the state's two-year budget.

"The pandemic has created new challenges and opportunities for Ohio lawmakers as they craft a state operating budget that balances the public's health and safety and the economic needs of struggling small businesses, all while maintaining a sustainable long-term budget that does not hinder growth," said Greg R. Lawson, a research fellow at The Buckeye Institute and the author of the Piglet Book. "This year's Piglet Book outlines how policymakers can accomplish this difficult task by adhering to fundamental economic principles, re-prioritizing spending, curbing spending growth rates, and trimming government waste. If followed, our recommendations could save taxpayers more than $600 million."
Given the pandemic and the uniqueness of this year's operating budget, Lawson looked at three main areas of spending in the Piglet Book—how to prudently spend in a pandemic recovery, how to reduce government spending, and how to empower families with innovative spending. In total, Lawson found more than $600 million in savings for Ohio taxpayers.
To prudently spend in a pandemic recovery, Lawson urged lawmakers to 1) stay focused on maintaining core government services and enhancing public health and safety. He cautioned lawmakers to 2) resist the temptation to create long-term programs with one-time federal funding. And Lawson advised lawmakers to 3) peg non-COVID related spending growth to inflation and population growth rates.
To reduce government spending, Lawson offered the following recommendations:
Eliminate corporate welfare saving Ohioans nearly $200 million.
End government philanthropy and advocacy saving Ohioans $47 million.
Eliminate earmarks saving Ohioans more than $150 million.
Eliminate or reduce occupational licensing burdens. Eliminating just two licensing boards would save Ohioans more than $2 million.
Using innovative spending, Lawson also urged lawmakers to shift $425 million to fund a meaningful education savings account program, which would take a student-first approach to K-12 funding, and to utilize public-private partnership to expand access to broadband—an all-but essential for tool for 21st century life—to unserved areas of Ohio.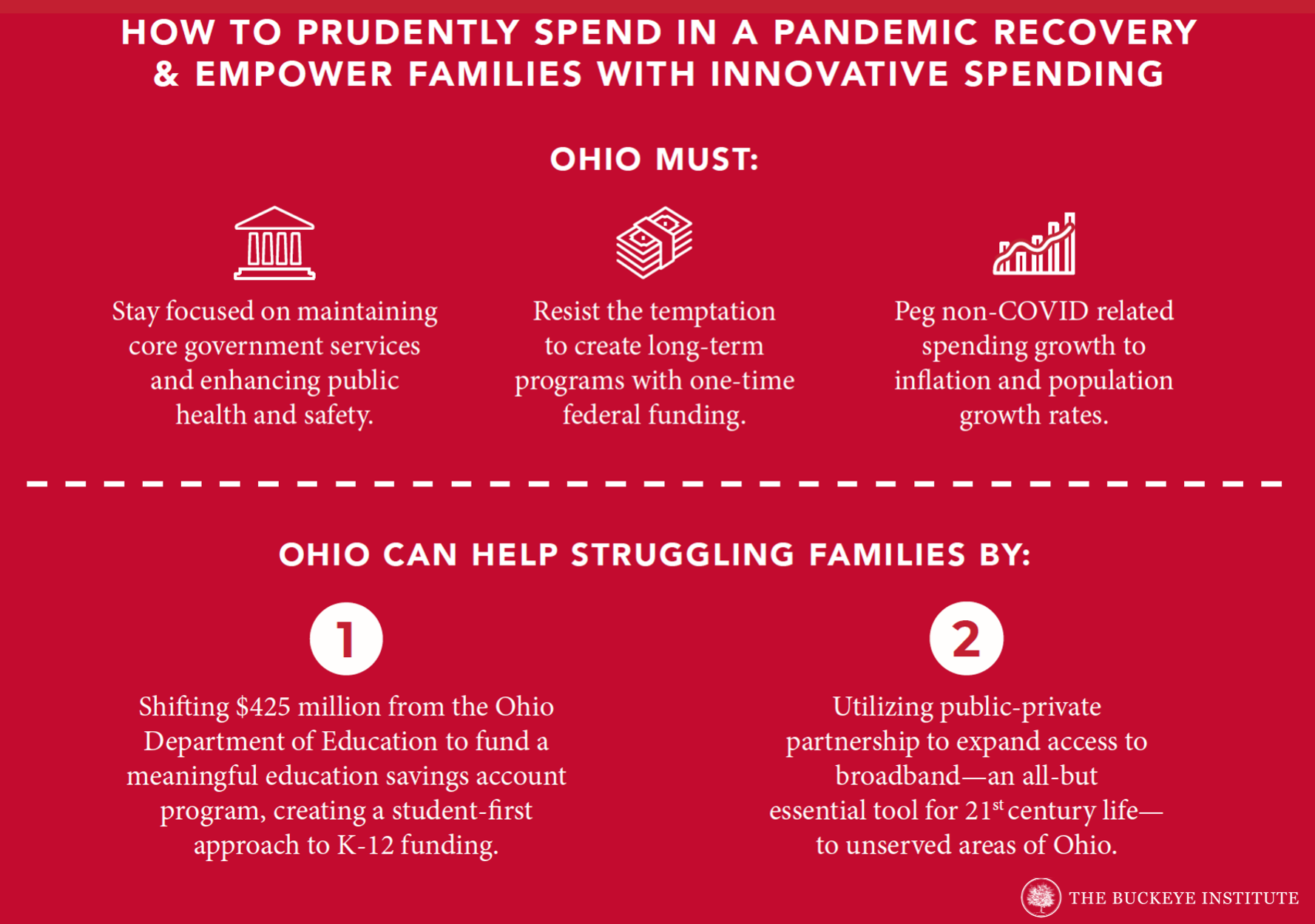 Piglet Book® is a registered trademark of Citizens Against Government Waste and is used with permission.
# # #