Watch the Pork: Focus State Dollars on Essential Government Services
Apr 04, 2016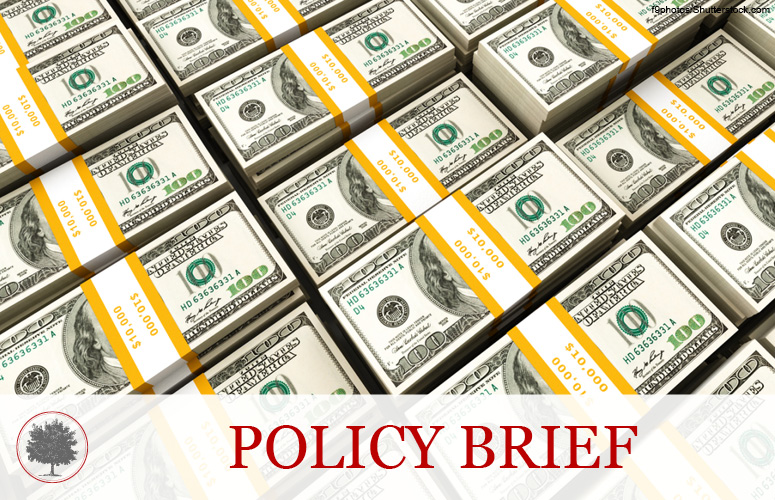 By Greg R. Lawson
Summary
Ohio's capital budget process takes place every two years. The state's new capital budget will be unveiled in April and many expect it to boast nearly $2 billion in appropriations. Unfortunately, many also estimate that approximately $150 million of that budget will be set aside to fund local pet projects—otherwise known as pork.
Spending tax dollars on parochial pet projects redirects scarce financial resources, makes government spending less efficient, and squanders an opportunity to make Ohio more competitive. Ohio's General Assembly should not be redistributing hard-earned taxpayer dollars for pet projects. Instead, it should remain focused on providing essential government services and maintaining infrastructures that constituents actually expect and need.
The 5 Most Ridiculous Capital Budget Requests of 2016
The state's capital budget should be primarily concerned with the "repair, reconstruction and construction of capital assets of state agencies, colleges, universities and school districts."[1]
Regrettably, in most budget cycles, hundreds of millions of taxpayer dollars are often siphoned away from these statewide priorities to pay for an array of local and regional projects, such as museums, statues, and athletic facilities. Recent capital budgets, for instance, have seen local and regional leaders present the General Assembly and the Office of Budget and Management with prioritized lists of pet projects for state funding.
The Buckeye Institute's list of "The 5 Most Ridiculous Capital Budget Requests of 2016" recently highlighted some of this year's worst pet project proposals:[2]
$10.6 million for a "Triumph of Flight" statute at I-70 and I-75 in Dayton
$2 million to renovate an exhibit at the Cleveland Rock and Roll Hall of Fame
$1.5 million to refurbish parts of Mapfre Stadium in Columbus
$150,000 for the Madcap Productions theater and exhibit hall
$50,000-$100,000 for the Bowling Green Curling Club ice rink
These localized projects, of course, should not be funded with state funds that can be better spent providing and improving essential government services. Local recreational interests should be funded with local dollars and private support.
Ohio's Infrastructure Needs
Like most states, Ohio has a variety of significant and expensive infrastructure needs. And Ohio taxpayers rightly deserve for their elected officials to serve these needs before catering to political pork projects.
The American Society of Civil Engineers (ASCE) gave Ohio a C- grade for the state's infrastructure.[3] Repairing this inadequate but necessary infrastructure will be costly. The ASCE estimated, for example, that Ohio would need $12.2 billion over the next twenty years to upgrade and maintain its drinking water infrastructure, with another $14.2 billion needed to upgrade and maintain the state's waste water systems.[4] One may quibble with the precise cost estimates, but they highlight the need for and potential cost of substantial infrastructure improvement. Costs associated with Ohio's sewer and water usage are rising faster than inflation due in part to expensive, ongoing consent decrees with the U.S. EPA,[5] and recent headlines have revealed the challenges associated with dangerous lead levels in some of our cities.[6] These problems are not going away anytime soon.
Given the state's critical infrastructural needs, it is hard to see the wisdom in spending scarce state resources on highway statuary and rock 'n roll exhibits. And although $150 million over two years would be just a fraction of the cost to repair and upgrade water infrastructures, every dollar counts and no tax dollar should be flushed down the drain.
Conclusion
Ohio needs to think long and hard about its fiscal priorities, and what matters most to her citizens and taxpayers. Policymakers should hold a broader conversation about the state's aging infrastructure and the challenges of confronting the costs in many of these areas. But as Ohio continues to recover from decades of less-than-peak economic performance, the last thing she needs is to spend precious state resources on non-essential pork projects.
---
1. Office of Budget and Management, "Capital Budget--Overview," Accessed March 10, 2016, http://www.obm.ohio.gov/budget/capital/
2. Dennis Cauchon, "The Top 5 Most Ridiculous Budget Requests to Ohio legislators this year,"The Buckeye Institute, March 2, 2016, http://buckeyeinstitute.org/the-liberty-wall/2016/03/02/the-top-5-most- ridiculous-budget-requests-to-ohio-legislators-this-year/
3. American Society of Civil Engineers, "2013 Report Card for America's Infrastructure- Ohio," accessed March 11, 2016, http://www.infrastructurereportcard.org/a/#p/state-facts/ohio
4. Ibid.
5. Nicholas Blaine and Lavea Brachman, "An Assessment of Ohio Cities' Water and Sewer Infrastructure and Brownfield Sites Redevelopment: Needs and Gaps," The Greater Ohio Policy Center, November 2015, http://greaterohio.org/ les/pdf/water-and-sewer-infrastructure-report.pdf
6. Lucy Westcott, "With Lead in the Water, Could Sebring, Ohio Become the Next Flint?" Newsweek, January 27, 2016, http://www.newsweek.com/sebring-water- int-lead-ohio-420300