Why Project Labor Agreement Reform is Needed
Apr 14, 2016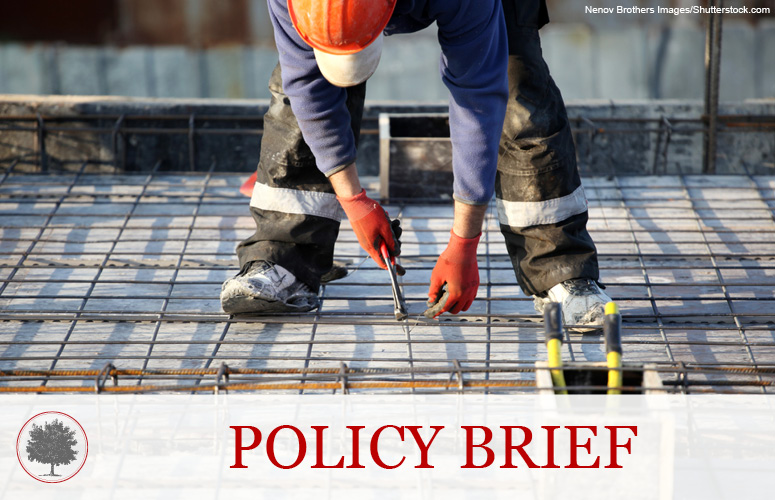 By Greg R. Lawson
Summary
Last year, Ohio legislators scrutinized the harmful economic impacts of Project Labor Agreements (PLAs). Finding PLAs wasteful and inefficient, policymakers proposed including a serious reform measure in the biennial budget. Unfortunately, that reform provision was removed by members of a joint conference committee at the very end of the legislative process. The Buckeye Institute's Tom Lampman showed in our report, One Step to Restore Competition to Public Works Bidding,[1] that PLAs decrease competition among contractors and increase the public project costs for taxpayers.
The Costs to Taxpayers Increase
PLAs serve only the unions' interests at the expense of Ohio taxpayers. By turning away contractors who would otherwise bid for public construction projects, PLAs stifle competition and increase the taxpayers' costs for these projects by as much as 12-18 percent.[2]
This fiscally irresponsible policy favors a narrow class—the unions—and thus violates a fundamental principle of the free market.
Competition Reduced
PLAs limit competition on taxpayer-funded projects by imposing union regulations on non-union employers. Some non-union employers that could do the work better, faster, or more efficiently, won't compete for some public works jobs because of the expensive and time-consuming regulations imposed by the PLAs. As Boston and New York City have discovered, this artificial limit on competition created by PLAs can dramatically increase the costs for many public projects.[3] Free-markets reward efficiency. By constricting markets and limiting competition, Ohio's PLAs punish efficiency and require taxpayers to spend more money.
Non-Union Workers Pay More, End Up with Less
PLAs work against non-union workers in several ways. First, their non-union employers often forgo bidding for or working on public projects, which limits the hours and earning potential for non-union employees. Second, even when non-union companies engage on a PLA project, they typically pay into union bene t programs for benefits that their workers will never see unless they subsequently decide to join a union. Both of these scenarios harm the 85 percent of construction workers not represented by a union.[4]
Conclusion
PLAs pick winners and losers. Non-union employers and employees lose out on profits and earnings, while millions of Ohio taxpayers and businesses are forced to pay more for projects that could be done better, faster, and cheaper. It's time for Ohio to end these harmful, unfair agreements.
---
1. Tom Lampman, "One Step to Restore Competition to Public Works Bidding," The Buckeye Institute for Public Policy Solutions, April 21, 2015, http://buckeyeinstitute.org/uploads/ les/One_Step_to_Restore_Competition_ to_Public_Works_Bidding.pdf
2. David G. Tuerck, Sarah Glassman, Paul Bachman, "Project Labor Agreements on Federal Projects: A Costly Solution in Search of a Problem," Su olk University, accessed April 16, 2015, http://www.beaconhill.org/BHIStudies/PLA2009/ PLAFinal090923.pdf, p. 21.
3. Tom Lampman, "One Step to Restore Competition to Public Works Bidding," The Buckeye Institute for Public Policy Solutions, April 21, 2015, http://buckeyeinstitute.org/uploads/ les/One_Step_to_ Restore_Competition_to_Public_Works_Bidding.pdf
4. Barry Hirsch and David Macpherson, "U.S. Historical Tables: Union Membership, Coverage, Density, and Employment, 1973-2014," UnionStats.com, accessed April 16, 2015, http://www.unionstats.com/