Ohio Governor Signs Buckeye Institute-Championed Policy To Help Military Spouses Work in Ohio
Jan 27, 2020
Columbus, OH – The Buckeye Institute's tireless efforts to increase job opportunities for Ohio's military families culminated in the passage of Senate Bill 7, which Ohio Governor Mike DeWine signed into law at a ceremony at Wright Patterson Air Force Base Monday afternoon. Buckeye's president and CEO Robert Alt joined Governor DeWine, legislative leaders, and military families on stage at the bill signing.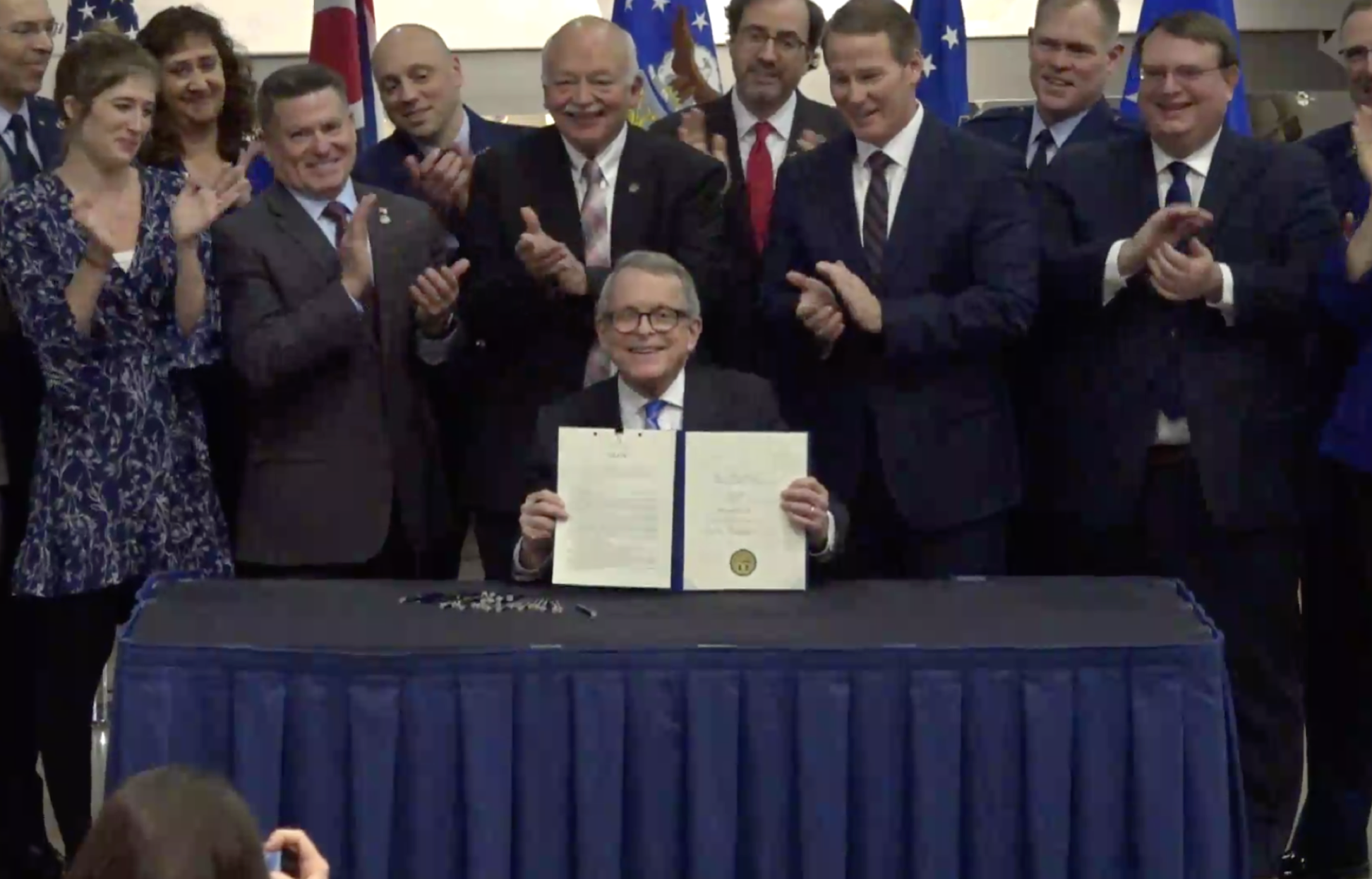 Senate Bill 7 grants the spouses of active-duty military men and women who are relocated to Ohio reciprocity for their valid out-of-state occupational licenses, allowing them to continue working in their chosen profession. This commonsense reform is based upon The Buckeye Institute's recommendations to remove unnecessary barriers and burdens on military families as stated in Buckeye's landmark 2016 policy paper "Increasing Job Opportunities for Military Families."
Senate Bill 7's signing is a victory for military spouses like Brianna McKinnon, a special-education teacher and military spouse, whose family is stationed at Wright-Patterson Air Force Base. Brianna's hard work in partnership with Buckeye to promote the policy reform in Senate Bill 7 was recently praised by U.S. Secretary of Defense Mark Esper, who thanked McKinnon for championing the cause and said he will use her "efforts as an example to encourage other states to adopt similar legislation."
Senate Bill 7 is also a victory for Melonia Lillie, a registered nurse who has served this country alongside her active duty Marine Corps husband as a military spouse since 2008. Lillie said, "Senate Bill 7 is such good news for military families like mine. Since 2008, I have moved four times as a military spouse, and each time I had to pay another license fee on top of fees for background checks and fingerprinting. It is such a relief to know that Ohio recognizes the challenges military spouses face and has taken The Buckeye Institute's recommendations to remove an unnecessary bureaucratic rule that made it harder and more expensive for military spouses like me to get back to work."
The Buckeye Institute's president and CEO Robert Alt said, "The families of those who are serving our country should not be deprived of the right to earn a living by needless regulation. The Buckeye Institute is proud to have spearheaded this reform in Ohio, and looks forward to working with other states and the federal government to streamline licensing for military spouses across the country."
The Buckeye Institute's work on this issue has been praised by policymakers across Ohio, and by the people it will impact the most—Ohio's military families.
Representative Rick Perales (HD-73)
"The Buckeye Institute was a great partner. When we needed background information to build the case for getting occupational licensing reciprocity for military families, The Buckeye Institute was there to provide it quickly and effectively. They were a great assist getting this bill across the finish line."
Senator Bob Hackett (SD-10)
"Senate Bill 7 will help protect the financial stability of our servicemen and women, their spouses, and their families by making their occupational licenses temporarily valid in Ohio. This will help solve one of the biggest concerns our military members and their families face when relocating to our state. I would like to thank The Buckeye Institute and all of the interested parties who worked with us on this important piece of legislation. We all greatly appreciate the sacrifices our servicemen, servicewomen and their families make for our country and our community, and we all benefit from their valuable skills and contributions to our workforce."
Watch the Signing Ceremony
"Military service is a high calling that brings with it many benefits, however, frequent relocations can place a burden on military families—particularly on the spouses whose jobs require a license or certificate such as teachers, nurses, dental assistants, and home health aides. Military families are vital to our state and nation, and this new law will eliminate the red tape they encounter when relocating to Ohio and resuming their careers here."
~ Governor Mike DeWine on the Buckeye-Inspired Senate Bill 7,
January 27, 2020
# # #